Cardiac Output Monitoring
Jean-Michel Maarek, PhD
Senior Lecturer,
USC Department of Biomedical Engineering
Daniel Holschneider, MD
Associate Professor,
USC departments of Psychiatry, Neurology, Cell and Animal Neurobiology and Biomedical Engineering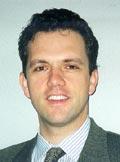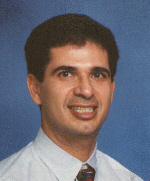 January 26, 2005
CLU - Richter Hall Ahmanson Science Building
Cardiac Output Monitoring is a technique used to measure the amount of blood flowing through a heart in 1 minute. Current protocol requires the use of the invasive pulmonary artery catheter or expensive ultrasound technology. Either choice requires a surgeon to use extreme care because both procedures have the potential to further aggravate a patient's condition. Also, at the present time there is no way to perform either invasive or non-invasive cardiac output measurement on children. However, a new procedure now under development combines an established measurement device with modern optical technology to provide a non-invasive technique that provides simultaneous cardiac output measurement plus circulating blood volume. The procedure can be used in the ICU or physician's office.
Jean-Michel Maarek & Daniel Holschneider
JEAN-MICHEL I. MAAREK, PH.D. received a Bachelor's degree in Chemical Engineering in 1980 from the Ecole des Mines, Nancy, France and a Doctorat Ingénieur degree in Biomedical Engineering in 1984 from the Université de Paris, Val-de-Marne, Créteil, France. His primary interest is in biomedical optics applied to the development of diagnostic technology (optical biopsy) for critical care medicine and cardiopulmonary studies. Currently, Dr. Maarek is working on a Cardiac Output Monitoring technique that uses fiber optics to provide a minimally invasive alternative to the thermodilution method. Dr. Maarek also collaborates with Dr. Holschneider in the development of an implantable infusion pump for experimental neuroimaging studies. Dr. Maarek is a senior lecturer in the Department of Biomedical Engineering at USC.
DANIEL HOLSCHNEIDER, M.D. is working with Dr. Maarek on the fiber optics-based Cardiac Monitor Program. The focus of his research has been animal models, physiologic monitoring, brain function, and technology development (e.g., cardiac output monitoring, implantable infusion pumps). Dr. Holschneider is an Associate Professor in the USC departments of Psychiatry, Neurology, Cell and Animal Neurobiology and Biomedical Engineering. He holds 2 patents.