Stem Cell Treatment of Brain Tumors and Cancers


John Yu MD
Jan 31, 2007
CLU - Richter Hall Ahmanson Science Building
Dr. Yu's latest work focuses on the use of bone marrow-derived neural stem cells to treat malignant brain tumors. He also is the principal investigator for immunotherapy trials conducted at the institute. The goal of his research is to bolster the body's immune system, thus achieving an anti-tumor effect. Both genetically engineered tumor cells and dendritic cells are used to prime the immune response.
Phase I trials of the dendritic cell immunotherapy have been encouraging, and Phase II trials began in September 2000. In 1996, he received the Academy Award from the American Academy of Neurological Surgery at its annual meeting. That same year, he presented his research on immunologic gene therapy for brain tumors at the American Association of Neurological Surgeons.
John Yu MD
Maxine Dunitz Neurosurgical Institute,
Cedars-Sinai Medical Center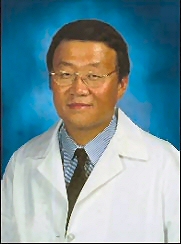 John S. Yu, MD is Co-Director of the Comprehensive Brain Tumor Program at the Maxine Dunitz Neurosurgical Institute at Cedars-Sinai Medical Center.
As an internationally renowned neurosurgeon, Dr. Yu's clinical focus is on the treatment of spinal disorders, as well as malignant and benign brain and spinal tumors. He is also conducting extensive research in immune and gene therapy for brain tumors. In 2005, he was inducted into America's Top Doctors and has been in America's Who's Who in Medicine and Healthcare since 2003.