Automating Pharmaceutical Discoveries
Brian Rasnow
Wednesday, October 24, 2007 7 PM
CLU - Richter Hall, Ahmanson Science Building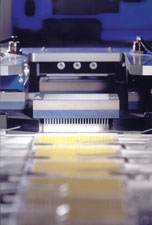 High Throughput Screening and Automation have substantially improved the productivity of drug discovery. Researchers can evaluate orders of magnitude more drug candidates at the beginning of the drug development process, offering many more, and more specific candidates for later development.
Dr. Brian Rasnow
Amgen
Dr. Brian Rasnow is a Principal Scientist in Research & Automation Technologies at Amgen. His group does laboratory automation & technology acquisition, automated high throughput screening, develops novel screening and detection platforms. Prior to his work at Amgen, Brian studied electro-reception and neuroethology at Caltech, where he received a Ph.D. in Physics in 1994. He is an active member of the IEEE, Association for Laboratory Automation, and Society for Neuroscience.

Brian has extensive connections into the biotech world through his work at Amgen and is instrumental in identifying nationally recognized speakers. Brian has also a clear vision of how education should be brought to younger students to develop their love for bioengineering. He was instrumental is creating the student development vision for our chapter's Middle School Outreach program.
Meeting Site:
California Lutheran University Gilbert Sports and Fitness Center,
Second Floor, rooms 253/254, 130 Overton Court, Thousand Oaks, CA.
Meetings are free, and open to the public
Dinner:
Available at 6 p.m. for $12 payable at the door, no RSVP needed.
Parking:
Parking is free outside of the Gilbert Sports Center
Contact:
Steve Johnson, sfjohnso@ieee.org
Our Sponsors:
California Lutheran University, IEEE EMB Society, The Alfred E. Mann Institute for Biomedical Engineering at the University of Southern California, IEEE Buenaventura Section, Amgen Foundation, Ameriprise Financial Services, Inc., D. F. Rick Speidel, Financial Advisor, MicroJoining Solutions, Wabash Power