The Robot Doctor Will See You Now: Status and Potential of Robotics in Healthcare
George Bekey, PhD, member, National Academy of Engineering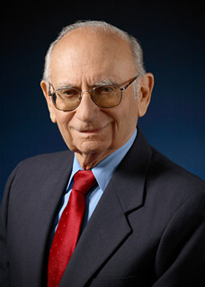 Wednesday, April 29 2015 7 PM
CLU - Ahmanson Science Building
George Bekey, member, National Academy of Engineering
Dr. George A. Bekey is an authority on robot research and applications, and is known for his scientific achievements, broad technological perspective and humanistic approach. A member of the National Academy of Engineering, Dr. Bekey was chosen by the National Science Foundation (NSF) and National Aeronautics and Space Administration (NASA) to lead a 2005-2006 assessment of the state of robotics in the United States, Western Europe and the Pacific Rim. The team's findings culminated in a report to its federal sponsors on American competitive advantages and weaknesses on the international stage.
A former Boy Scout and Explorer Scout leader, Dr. Bekey continues to volunteer with middle school and high school students. He is a mentor for the Arroyo Grande High School robotics team, which competes in the national For Inspiration and Recognition of Technology (FIRST) contest each year. FIRST is a "varsity sport of the mind" that involves building robots from standard parts, to demanding specifications, in limited time. Dr. Bekey also has served on a regional FIRST judging panel.
In addition, he speaks on robots and gives demonstrations for middle school students, and is popular with friends' young children for passing along various way-cool robots.
Meeting Site:
California Lutheran University Gilbert Sports and Fitness Center,
Second Floor, rooms 253/254, 130 Overton Court, Thousand Oaks, CA.
Meetings are free, and open to the public
Dinner:
Available at 6 p.m. for $12 payable at the door, no RSVP needed.
Parking:
Parking is free outside of the Gilbert Sports Center
Contact:
Steve Johnson, sfjohnso@ieee.org
Our Sponsors:
California Lutheran University, IEEE EMB Society, The Alfred E. Mann Institute for Biomedical Engineering at the University of Southern California, IEEE Buenaventura Section, Amgen Foundation, Ameriprise Financial Services, Inc., D. F. Rick Speidel, Financial Advisor, MicroJoining Solutions, Wabash Power