Super-resolution Microscopy - Tijana Jovanovic-Talisman PhD

Wednesday, October 26, 2016 7 PM
CLU Gilbert Sports and Fitness Center, 130 Overton Court, rooms 253/254 (second floor)
Pointillistic super-resolution imaging techniques can be used to elucidate nano-scale spatial organization of proteins and investigate biological processes that are critical to the progression of cancer and other human diseases. To advance drug discovery, we use Photoactivated Localization Microscopy with pair-correlation analysis (PC-PALM), a quantitative fluorescence imaging method with high spatial resolution and single-molecule sensitivity. This technique allows us to obtain information about a wide range of spatial scales from approximately 10 nm to 1 mm, along which many remodeling events take place. Our research interests lie in the advancement of quantitative nano-scale methods to study important biological mechanisms and in the development of novel therapeutic and imaging agents with these powerful techniques.
Tijana Jovanoci-Talisman, Ph.D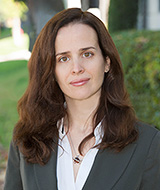 Tijana Jovanovic-Talisman received her B.Sc. in Physical Chemistry from the University of Belgrade, Serbia in 2000 and Ph.D. in Chemistry from Columbia University under the guidance of Professor Ann E. McDermott in 2005. She did postdoctoral research at the Rockefeller University with Professor Brian T. Chait where she integrated approaches in biology, chemistry, physics, and nanotechnology to construct a functional nuclear pore complex mimic. Subsequently, she pursued a postdoctoral fellowship at the NIH in the lab of Dr. Lippincott-Schwartz and investigated the nanoscopic distribution of plasma membrane proteins using super-resolution microscopy. After two years as an assistant professor of Chemistry at the University of Hawaii at Manoa, she joined the department of Molecular Medicine at the Beckman Research Institute of City of Hope as an assistant professor in 2013.
Meeting Site:
California Lutheran University Gilbert Sports and Fitness Center,
Second Floor, rooms 253/254, 130 Overton Court, Thousand Oaks, CA.
Meetings are free, and open to the public
Dinner:
Available at 6 p.m. for $12 payable at the door, no RSVP needed.
Parking:
Parking is free outside of the Gilbert Sports Center
Contact:
Steve Johnson, sfjohnso@ieee.org
Our Sponsors:
California Lutheran University, IEEE EMB Society, The Alfred E. Mann Institute for Biomedical Engineering at the University of Southern California, IEEE Buenaventura Section, Amgen Foundation, Ameriprise Financial Services, Inc., D. F. Rick Speidel, Financial Advisor, MicroJoining Solutions, Wabash Power